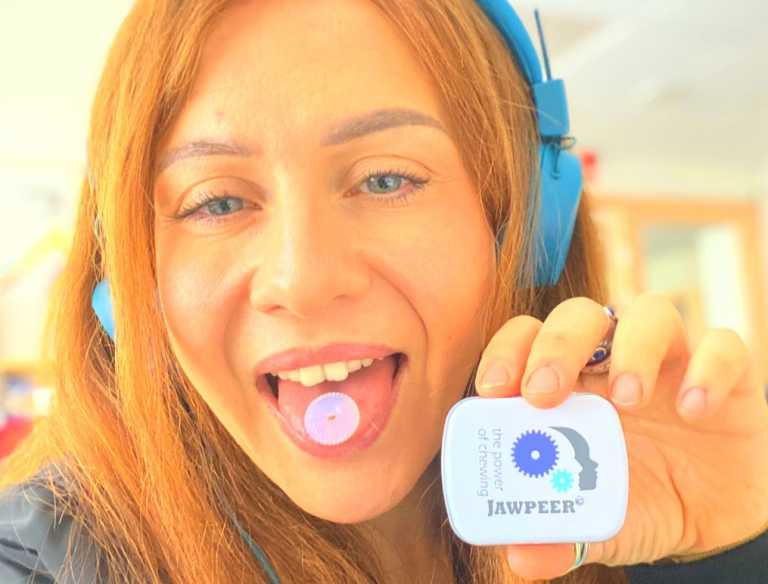 For 36-year-old Tanja Andelman, JAWPEER is a lifestyle product. Tanja's lifestyle is about health, exercise, diet, yoga, and social media. Her greatest passion is BMX biking. It places enormous demands on both the body and the brain. Then she uses JAWPEER to activate neurotransmitters that keep her awake and focused.
Tanja changed her life

Tanja may seem as strong and independent as Pippi Longstocking, but she has not always been. As a teenager, she had low self-esteem. She smoked, abused food, and weighed over 80 kilos. She felt different and became depressed. Finally, she came to a point where she decided to change her life. Tanja contacted a dietitian, changed her diet and started exercising. With new healthy habits, the pounds plummeted and self-confidence returned. But she also realized that there was a reason she had abused food.
Mountainbike + JAWPEER = control

Tanja has a diagnosis of ADHD and is almost addicted to kicks. People with her disposition get bored easily and many use drugs. Tanja neither smokes nor drinks; her drug is mountain biking. With JAWPEER in her mouth and the bike between her legs, Tanja has control over life. At the same time, she gets the adrenaline rush she needs to feel alive. She also uses JAWPEER when she needs to concentrate. Likes that they are environmentally friendly and natural, that they have no artificial taste. Perfect for chewing on instead of snacking.
JAWPEER fits extreme individualist's

On Instagram, Tanja appears almost like a superhero. She always dresses nicely and likes to play with the image of herself. She does not always feel as cool as in the pictures, but she strives to be beautiful, strong and harmonious. Sure, she likes praise, but at the same time, she is an extreme individualist. If Tanja is allowed to give personal advice, it is to find out what makes you happy. Be as accurate as possible. Find your own goals and it will be easier to create a balanced life.
JAWPEER keeps the balance

Like others, Tanja struggles to keep her balance in life. Sometimes it goes up and sometimes it goes down. Her impressive energy and lust for life come from inside. When she rides a bike, she feels like a child again. A combination of movement, presence, speed, struggle and risks gives feelings of happiness. JAWPEER is a lifestyle product that fits her. It provides control and nature around gives peace of mind. A poem on the Instagram account summarizes what motivates and balances Tanja's existence:
To find peace
To find silence
To find strength
To find meaning

To be in the moment
To have fun
To be careless and free
To reconnect with the kid in me

To look good
To feel great
To have fun
To be badass